Bariatric surgery refers to a collection of procedures designed to stimulate weight loss by altering the way the digestive system works. The innovative techniques available today for performing bariatric surgery have allowed so many people to get a second lease on life by overcoming obesity and adopting a healthier lifestyle. At Suburban Surgical Care Specialists/Kane Center, our experienced bariatric surgeons are committed to helping these individuals find the safest, most beneficial solution for reaching their goals.
How to Find the Right Bariatric Surgeon for You
Your safety and long-term success from weight loss surgery will depend upon the skill and expertise of your bariatric surgeon. As a result, it is essential that you do thorough research and find an experienced and reputable bariatric surgeon with the necessary qualifications.
Why Choose Suburban Surgical Care Specialists/Kane Center?
Bariatric Surgeons Formally Recognized for Exceptional Patient Care.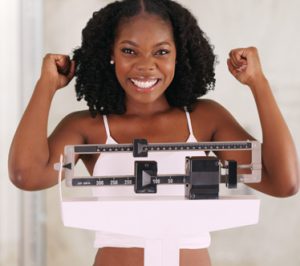 Suburban Surgical Care Specialists/Kane Center has been honored with national recognition by the American Society for Metabolic & Bariatric Surgery (ASMBS) as a Bariatric Surgery Center of Excellence®. In addition, the physicians are affiliated providers for Blue Distinction+ in Bariatric Surgery. Recipients of these designations must have the necessary components and expertise to deliver bariatric surgical care with the highest levels of efficacy, efficiency, and safety—with excellent short- and long-term patient outcomes.
Surgical Excellence Comes with Experience. Our bariatric surgeons have been performing bariatric surgery for over 45 years. Our knowledge, expertise, and experience are unprecedented, and our surgeons have performed over 10,000 weight loss surgeries since the inception of the practice. We currently perform over 400 weight loss surgeries each year.
Advanced Bariatric Surgery Options and Comprehensive Care. We perform minimally invasive laparoscopic surgery and robotic techniques to decrease the length of the patient recovery process. Our bariatric surgery team includes a psychologist, pulmonologist, cardiologist, as well as dietitians and exercise physiologists. Our support team includes Patient Advocates and Insurance Specialists to assist patients during their weight loss journey.
Dr. Peter Rantis did my bariatric bypass surgery March 29, 2017. As of July 11 my weightloss is 200lbs. I stuck to the pre & post-operative plan to the letter. The team handle me with great care, respect and dignity. I cannot say how grateful I am for this new start. -Jessica L.
Is Bariatric Surgery Right for You?
Making the decision to undergo bariatric surgery has been rewarding and gratifying for many of our patients. It does, however, represent a serious, lifelong commitment to a healthy lifestyle. If the following statements can be used to describe you, then you are probably ready to begin the process of seeking weight loss surgery.
You are determined to lose weight and improve your overall health.
You are certain you will not be able to lose weight successfully using non-surgical measures.
You are informed about the surgical procedure and aware that your life will change after the surgery.
You are committed to lifelong medical follow-up.
You must remember that there are no guarantees for weight loss or resolution of comorbidities with bariatric surgery. You can only achieve success by strictly following post-surgery guidelines and committing to a healthy lifestyle and lifelong medical follow-up care.
What Are the Requirements for Bariatric Surgery?
For individuals who remain obese after non-surgical approaches to weight loss or for those who have an obesity-related disease, bariatric surgery at our Chicago-area practice may be the best solution for accomplishing weight-loss goals and improving health and quality of life. The first step in determining whether you are eligible for weight loss surgery is to determine your Body Mass Index (BMI). Although eligibility will vary based on the specific technique in question, ideal patients for bariatric surgery are those who have a BMI of at least 40 or over 35 with associated illnesses, such as diabetes or high blood pressure. However, there are now indications for bariatric surgery for patients with Type 2 Diabetes with BMI less than 35.
Visit the ASMBS BMI Calculator
In addition to the BMI requirement, you will be thoroughly evaluated to determine if the health benefits you can achieve with bariatric surgery outweigh the possible risks. Your mental health will also be assessed to ensure you are psychologically ready for the procedure and the permanent changes to your lifestyle.
What Are the Different Types of Weight Loss Surgery?
Choosing Your Path to a Healthier You. After you have determined that you are ready to pursue surgical treatment for obesity, you must decide which type of bariatric surgery you should undergo. We perform a variety of surgical and non-surgical bariatric procedures. We also perform revisional bariatric surgery procedures for patients wishing to modernize an outdated bariatric surgery they underwent in the past, and for patients suffering from bariatric surgery complications. Many patients who plan to undergo bariatric surgery also plan to have surgery to treat post-weight loss skin laxity.
Get an in-depth look at the different bariatric procedures and how they compare by visiting our weight loss surgery guide.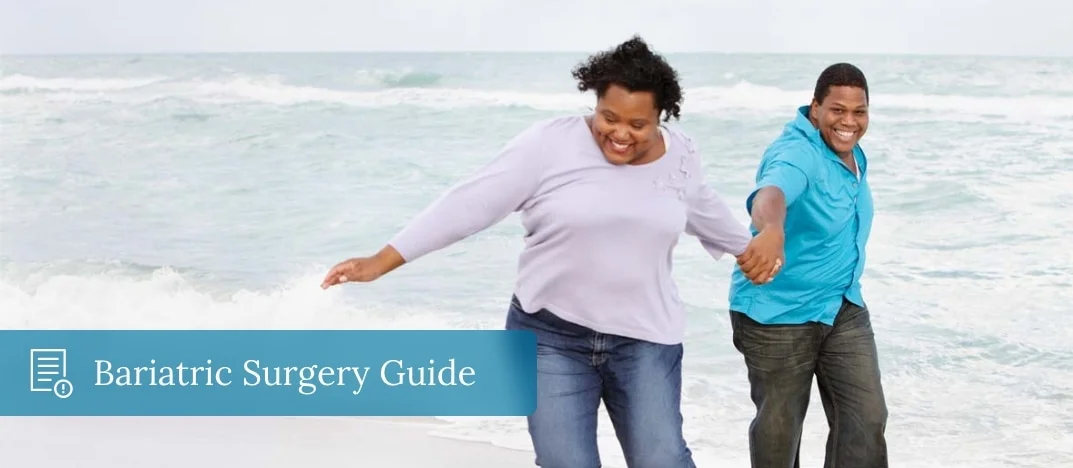 Vertical Sleeve Gastrectomy
The vertical sleeve gastrectomy, also known as gastric sleeve surgery, entails the removal of about 70-80 percent of the stomach in order to limit the amount of food that can be consumed. This allows patients to feel full from eating smaller portions, which can lead to major weight loss. Using staples, a small stomach tube (called the "sleeve") is created which ensures a natural outflow for the passage of food. The vertical sleeve gastrectomy can be especially beneficial for those who are morbidly obese with a serious risk of life-threatening diseases. Our bariatric surgeons perform this procedure laparoscopically, which typically allows for a faster procedure with an easier recovery period.
Roux-en-Y Gastric Bypass Surgery (Laparoscopic or Robotic)
The Roux-en-Y is a perfected form of gastric bypass surgery involving a minimal risk of side effects and exceptional weight loss results. The Roux-en-Y procedure helps obese patients achieve weight loss by both restricting food intake and decreasing the nutrient-absorption capacity of the digestive system. Many patients who have undergone the Roux-en-Y procedure report a reduction in cravings for fatty and sugary food. All patients who undergo the procedure must pay special attention to doctor-recommended dietary guidelines and take vitamin and mineral supplements to avoid the risk of malnutrition.
Duodenal Switch
The Biliopancreatic Diversion with Duodenal Switch (BDS/DS) is a weight loss surgery performed both laparoscopically and robotically that can provide significant results for those with severe morbid obesity. The procedure combines a sleeve gastrectomy with a duodenal switch. This involves reducing the size of the stomach before re-routing the duodenum. By undergoing this innovative procedure, along with adopting a healthy lifestyle, patients can lose up to 90% of their excess weight.
The modified Biliopancreatic Diversion with Duodenal Switch, or simple anastomosis loop Duodenal Switch, is a newly ASMBS-approved bariatric surgical procedure.
LAP-BAND® System Surgery
LAP-BAND System surgery involves placing an adjustable stomach-restricting band made of a biocompatible material around the upper portion of the stomach. A LAP-BAND System procedure is simple and minimally invasive. After the procedure, patients lose weight more gradually than they do with the Roux-en-Y procedure. Because there is a slightly lower risk of malnutrition associated with the procedure, patients do not have to maintain as extensive a vitamin and nutrient supplement regimen following surgery.
Revisional Bariatric Surgery
As with any surgical procedure, weight loss surgery has a slight risk of unforeseen surgical complications. If a patient suffers from severe surgical complications, surgical intervention may be required. The surgeons at Suburban Surgical Care Specialists/Kane Center all possess advanced training and extensive experience in bariatric surgery. As a result, many of our practice's revisional bariatric surgery patients are referred to us by other bariatric surgeons, as well as other health care professionals.
Robotic Surgery
With our revolutionary da Vinci® robotic surgical system, our bariatric surgeons are able to perform less invasive weight loss procedures while achieving enhanced precision. This technology involves a 3D HD vision system that magnifies the surgical site for optimal viewing, while the specialty instruments offer our surgeons advanced control when operating. Candidates for certain bariatric procedures, such as the Roux-en-Y gastric bypass and the Duodenal Switch, will be carefully evaluated to determine if they can benefit from robotic surgery. For patients who qualify, they can typically expect to have a shorter recovery period after surgery.
ORBERA™ Non-Surgical Balloon System
ORBERA is a non-surgical weight loss procedure that can be a viable alternative for patients who are not good candidates for or not interested in bariatric surgery. This FDA-approved system involves the placement of a deflated gastric balloon into the stomach, which is then filled with saline. For more information, please contact the practice.
Post-Bariatric Surgery
Obesity not only places a strain on the body's internal organs, such as the heart, the liver, the lungs, and even the brain, it can also damage the skin. Obesity-related skin damage is often cumulative. Gradually, as a person's weight increases, the skin stretches to accommodate the new body mass and over time loses its natural elasticity. When an obese patient begins to slim down, the skin may not be able to conform to the new body frame. Post-bariatric surgery, also referred to as body contouring, may provide the ideal solution for a patient who has lost considerable weight but remains dissatisfied with his or her overall appearance.
What Does the Bariatric Surgery Consultation Involve?
During your bariatric surgery consultation, one of our experienced bariatric surgeons will meet with you to answer all of your questions and provide you with expert medical advice. Patients are encouraged to take an active role in preparing for their weight loss surgery by learning as much as they can about the steps they will need to take to prepare for and recover from the procedure, and about the surgery itself. At Suburban Surgical Care Specialists/Kane Center, we believe that providing patients with knowledge about their procedure is essential—the more you learn about your obesity surgery procedure, the more confident you will feel that you have made the right decision.
How Should I Prepare for My Bariatric Surgery?
All bariatric patients will be provided with a set of instructions to help them before their procedure and during their recovery. These pre-operative and post-operative checklists were created to help you easily prepare for your weight loss surgery and minimize the potential for complications.
Is Bariatric Surgery Safe?
Weight loss surgery is safer than ever before. However, as with any surgical procedure, there are risks associated with bariatric surgery. Our team goes over these risks in detail during the consultation process, ensuring that patients are well-informed about their decision. In addition, our surgeons are highly qualified at performing bariatric procedures with optimal precision, and they offer a variety of minimally invasive options to minimize potential risks and maximize overall health.
How Much Does Bariatric Surgery Cost?
Bariatric surgery is an investment in your health, and the total cost of your procedure will greatly vary based on which surgical technique you are undergoing. Other factors that can influence the price of your weight loss surgery include the expertise of the surgeon, geographic location of the practice, complexity of the procedure, as well as additional fees. Our practice offers financing to assist in the total cost of your procedure.
Will Insurance Cover My Weight Loss Surgery?
Many insurance providers have recognized bariatric surgery as a procedure that can ultimately help people lead healthier lives with fewer medical problems. As a result, many companies now cover a variety of weight loss procedures. Patients should check with their insurance to verify their coverage.
Additional Frequently Asked Questions About Bariatric Surgery
How Does Weight Loss Surgery Affect My Overall Health?
Weight loss surgery has shown to improve, if not completely reverse, a number of medical problems typically linked to obesity. This includes sleep apnea, type 2 diabetes, high cholesterol, and high blood pressure. While losing a significant amount of weight after bariatric surgery can provide a number of health benefits, patients may be more susceptible to nutrient deficiencies. However, our doctors will recommend bariatric surgery vitamins and other supplements to ensure dietary needs are sufficiently met. We also recommend periodic labs and lifelong follow-up.
Will I Need to Join a Bariatric Surgery Support Group?
After surgery, the greatest care is taken in ensuring that each patient receives the highest standard of follow-up care in a supportive environment. Patients have the option of attending weekly support groups to discuss topics such as "Problematic Eating," "Stress Management," and "Psychology of Obesity." Temporarily in-person classes have stopped, and instead, these support groups are being held via Zoom. Call the practice for more details.
Will I Need Skin Reduction Surgery?
Many patients who experience a major weight loss following bariatric surgery choose to undergo one or more body contouring procedures to address excess skin. This is due to their previous weight causing their skin to stretch to the point of not being able to return once the weight is lost. The need to remove this excess skin will depend upon a number of factors, such as the starting weight, amount lost, location of the excess weight, and the patient's age. Many post-weight loss patients choose the option to alleviate irritation caused by hanging skin. In addition, this contouring can complete their transformation by revealing the body they have worked so hard to achieve.
Will I Gain the Weight Back After Bariatric Surgery?
Patients typically experience major weight loss after bariatric surgery from adopting a healthier lifestyle of diet and exercise. Our surgeons provide post-surgery recommendations to help patients maintain their healthier size without regaining weight. In addition to focusing on nutritious foods and following a regular workout regimen, patients should continue to attend follow-up appointments with their bariatric surgeon long-term. This allows their doctor to monitor their progress and provide further recommendations on weight management as indicated.
Where Can I Learn More About Obesity?
The Obesity Action Coalition is a non-profit organization dedicated to obese patient advocacy and public awareness of the obesity epidemic. The Obesity Action Coalition is also an excellent source of support, education, and special events for patients recovering from obesity. Suburban Surgical Care Specialists/Kane Center encourages all of our patients to visit the Obesity Action Coalition website for more information.
What Should I Eat After Bariatric Surgery?
After bariatric surgery, patients will need to adhere to a post-bariatric surgery diet to allow the stomach to heal and the body to adjust to modifications made by the procedure. For many treatments, including gastric sleeve, gastric bypass, and LAP-BAND® System surgery, a liquid diet is typically necessary in the days following surgery. After the recommended period of time, more solid foods can be introduced. Each patient's post-surgery diet will be based on the specific bariatric procedure performed and their unique needs. Our bariatric surgery team will formulate a detailed list of foods and beverages that can be consumed in the days and weeks following surgery so you will know exactly what to do in order to maintain proper nutrition and a balanced diet.
What Are the Side Effects of Bariatric Surgery?
There is the potential for side effects from bariatric surgery, but risks and side effects can be minimized when the procedure is provided by a highly trained, experienced, and skilled bariatric surgeon. Acid reflux, nausea and vomiting, infection, esophageal dilation, and the inability to consume certain types of food are some of the possible side effects of bariatric surgery; however the specific associated risks and side effects will depend on which treatment option is being performed. Our team will go over all risks and potential side effects during the initial consultation and we will work diligently to reduce the possibility of their occurrence.
What Is the Success Rate of Bariatric Surgery?
The success rate for many bariatric procedures is very high. For gastric bypass surgeries, many patients lose an average of 60-70% of the excess weight. Individuals who undergo gastric sleeve surgery often lose about 60-70% of excess weight within the first year following surgery, with an overall rate of success generally ranging from about 80% to 90%. For those using a gastric band, a general approximation of about 40% of excess weight may be lost. It is important to note that each patient is different and some will lose more or less than others depending on a variety of unique factors. One of the most determinative factors is the precise type of bariatric surgery that is performed. With that in mind, bariatric surgery conducted by an experienced and qualified weight loss surgeon has proven to be remarkably effective for producing significant weight loss and dramatically reducing health risks associated with obesity for many individuals.
What Are the Risks of Bariatric Surgery?
There are risks that accompany any surgical procedure and bariatric surgery is no exception. Our bariatric surgeon will discuss all risks of your treatment with you during your initial consultation and answer any questions you may have. While risks such as a reaction to anesthesia, infection, or excessive bleeding accompany many types of surgical procedures, there are some that are specific to certain types of bariatric surgery procedures, as well. Risks of potential complications include malnutrition, bowel obstruction, dumping syndrome, failure to lose weight, weight gain, and others. Many of these risks are quite rare, and it is important to note that the bariatric surgeons at our practice are extensively trained and experienced with major weight loss surgery procedures. They will make every effort to mitigate the risks of surgery and will take all necessary precautions to maximize the chances of successful results.
Contact Our Bariatric Surgery Practice
If you are prepared to make a lifelong commitment to a slimmer, healthier body at Suburban Surgical Care Specialists/Kane Center, our highly trained bariatric surgery specialists can give you the knowledge you need to make an informed decision about whether weight loss surgery is right for you. Did you know that weight loss surgery is often a covered benefit? To schedule your comprehensive consultation, contact our bariatric surgery practice today!