Veins return blood to the heart after it has passed through the body's organs. The blood is kept moving in a single direction through one-way valves. When the valves become degraded, the veins can become enlarged. This condition is known as varicose veins. The term "varicose" means enlarged or swollen. The most common site of varicose veins is in the lower extremities.
Spider veins are another common complaint we hear from our patients. Although not painful, spider veins can mar the appearance of attractive skin, especially as people get older. They typically form in the legs and can be caused by genetics, weight gain, or even sitting or standing for extended periods of time. The veins no longer function and tend to look red, blue, or purple in color. Their bold appearance on areas of the face, legs, and other body regions can often make people very self-conscious.
At Suburban Surgical Care Specialists/Kane Center, we provide quick and relatively painless laser vein removal and sclerotherapy procedures for spider veins and varicose veins. Call and make an appointment at our Chicago- area practice or contact us for more information.
Varicose Veins – Symptoms and Treatment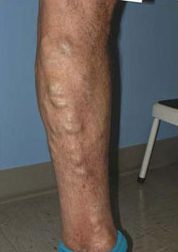 Before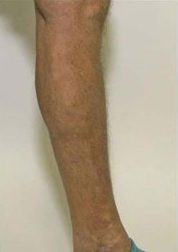 After

Varicose veins of the lower extremities are often treated with compression stockings, but when this conservative therapy fails to limit the symptoms of varicose veins, surgical intervention is often required. Many practices use the traditional treatment for varicose veins, wherein the long superficial vein of the upper leg (saphenous vein) is first removed. The next step is to extract any large varicose veins individually. At Suburban Surgical Care Specialists/Kane Center, we are excited to announce that we now use endovascular laser vein removal therapy to treat varicose veins at our practice. This laser vein removal process is a safe and convenient office procedure performed with local anesthesia.

Patients suffering from varicose veins often experience fatigue, pain, heaviness, burning, throbbing, cramping, and may also be limited in their activities. In severe cases, ulcerations and other skin abnormalities may also appear. In most cases, patients can obtain immediate relief from their discomfort through treatment of varicose veins with laser vein removal.
The Laser Varicose Vein Removal Procedure
The laser vein removal procedure lasts approximately 45 to 60 minutes. At the beginning of the procedure, local anesthetic is carefully injected into the tissue surrounding the varicose vein. This allows the procedure to be performed with negligible discomfort to the patient. A thin laser fiber is inserted into the affected vein. This special fiber is used to conduct the appropriate amount of laser energy to the varicose vein. The intensely focused heat of the laser allows our surgeons to successfully eliminate the varicose vein without causing harm to surrounding non-targeted tissue. When the vein is successfully removed, leg pain usually disappears. After the procedure is complete and the laser fiber has been removed, a compression bandage is placed on the leg. This helps control any temporary swelling. Patients who undergo the laser vein removal procedure are encouraged to walk immediately following the procedure to decrease the slight risk of blood clot formation. Treatment for varicose veins requires no special recovery protocols following laser surgery, and normal activities can be immediately resumed.
The Laser Spider Vein Removal Procedure
The laser device used for removal of varicose veins is also used to effectively treat spider veins. Laser spider vein removal procedures are usually performed in a series of short sessions lasting from 15 to 30 minutes. The number of sessions required for optimal results varies depending upon the needs of the individual patient. Because spider veins are usually closer to the skin's surface than varicose veins, in most cases the procedure requires no laser fiber insertion. The laser used in the vein removal procedure is specially calibrated to harmlessly pass through untargeted skin cells and treat only the spider veins. Once the spider veins have been rendered non-functional, the body gradually reabsorbs their proteins. Patients who have undergone the laser spider vein removal procedure subsequently enjoy skin that has a smoother and more uniform appearance. Side effects are uncommon and are usually minimal if they occur.
Sclerotherapy
One of the advanced spider vein treatments we offer at Suburban Surgical Care/Kane Center is Sclerotherapy—a minimally invasive injection that not only reduces the appearance of spider veins, but can completely eliminate them altogether. Sclerotherapy is a non-surgical method of erasing spider veins to promote a healthier-looking appearance to the skin.
The innovative procedure works through a special sclerosing solution that is injected into the target area, which causes the spider veins to shrink and collapse. As a result, blood stops flowing to the non-functioning blood vessels, and your body absorbs them, making the red or blue appearance disappear. Each session takes approximately 30 minutes or less. While Sclerotherapy proves to be beneficial after just one treatment, best results are typically achieved when it is done in a series of sessions. Little to no downtime is usually needed following the procedure.
Learn more about sclerotherapy.
More Information about Laser Vein Removal
Every patient's optimal course of treatment is unique. If you are suffering from spider veins or varicose veins, a laser vein removal procedure performed at our practice may be the best solution for you. Contact Suburban Surgical Care Specialists/Kane Center to learn more about our advanced laser treatments. A member of our friendly staff will assist you in scheduling a private