Chicago Weight Loss Practice Introduces Non-Surgical ORBERA™ Weight Loss System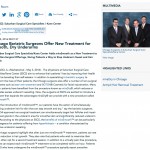 The physicians of Suburban Surgical Care Specialists/Kane Center discuss the potential of the ORBERA™ Managed Weight Loss System to achieve longer-lasting weight reduction without surgery.
Chicago, IL — A new weight loss program seeks to revolutionize the bariatric field, according to the surgeons at Suburban Surgical Care Specialists (SSCS). They explain that conventional weight loss methods emphasize either diet and exercise modifications or provide surgical intervention. The doctors say the ORBERA™ Managed Weight Loss System combines multiple modalities to achieve more comprehensive, lasting results without surgery. ORBERA™ is now available to qualified candidates at the physicians' Chicago weight loss practice.
What makes ORBERA™ unique, the Chicago bariatric surgeons explain, is that it utilizes a two-pronged approach. According to the manufacturer, the procedure begins with the non-surgical insertion of a balloon-like device into the stomach, which can be inflated by filling it with a saline solution. Once filled, this balloon limits food intake and increases the feeling of satiety. The device remains in place for six months, the company says, and will then be removed. The doctors say that the following six months will be devoted to continuing the healthy eating, portion control, and exercise habits that began with the first phase. They note that this combination of medical and support techniques can achieve three times as much weight loss as using diet and exercise alone, and the results typically will be lasting.
The physicians at SSCS indicate that ORBERA™ offers numerous benefits; however, this technique is not appropriate for everyone. Patients should be 18 years of age or older, have a body mass index (BMI) of 30 to 40, and desire a non-surgical approach to weight loss. Individuals interested in the ORBERA™ Managed Weight Loss System, they add, should discuss their concerns with a board certified bariatric surgeon with experience in this therapy.
About Suburban Surgical Care Specialists/Kane Center
Suburban Surgical Care Specialists/Kane Center offers a comprehensive range of medical procedures for patients seeking bariatric surgery in Chicago. Additionally, the team of board certified physicians perform breast surgery, vein treatments, endocrine surgery, and other advanced techniques. The practice emphasizes minimally invasive, laparoscopic modalities whenever possible, prioritizing patient comfort, results, and safety at the highest levels. To remain abreast of the latest advances in care, the physicians are committed to continuing medical education. Doctors at SSCS are available for interview upon request.
The practice can be found online at suburbansurgicalcare.com and facebook.com/pages/Suburban-Surgical-Care-Specialists/112793022140308.
Contact:
Suburban Surgical Care Specialists / Kane Center
Prairie Pointe Medical
4885 Hoffman Blvd.
# 400
Hoffman Estates, IL 60192
Wimmer Medical Plaza
800 Biesterfield Road
# 101
Elk Grove Village, IL 60007
(866) 716-5263
Rosemont Media
(858) 200-0044
www.rosemontmedia.com