How to Choose the Best Bariatric Surgeon, Chicago Physicians Weigh In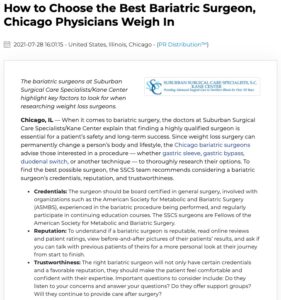 The bariatric surgeons at Suburban Surgical Care Specialists/Kane Center highlight key factors to look for when researching weight loss surgeons.
Chicago, IL — When it comes to bariatric surgery, the doctors at Suburban Surgical Care Specialists/Kane Center explain that finding a highly qualified surgeon is essential for a patient's safety and long-term success. Since weight loss surgery can permanently change a person's body and lifestyle, the Chicago bariatric surgeons advise those interested in a procedure — whether gastric sleeve, gastric bypass, duodenal switch, or another technique — to thoroughly research their options. To find the best possible surgeon, the SSCS team recommends considering a bariatric surgeon's credentials, reputation, and trustworthiness.
Credentials: The surgeon should be board certified in general surgery, involved with organizations such as the American Society for Metabolic and Bariatric Surgery (ASMBS), experienced in the bariatric procedure being performed, and regularly participate in continuing education courses. The SSCS surgeons are Fellows of the American Society for Metabolic and Bariatric Surgery.
Reputation: To understand if a bariatric surgeon is reputable, read online reviews and patient ratings, view before-and-after pictures of their patients' results, and ask if you can talk with previous patients of theirs for a more personal look at their journey from start to finish.
Trustworthiness: The right bariatric surgeon will not only have certain credentials and a favorable reputation, they should make the patient feel comfortable and confident with their expertise. Important questions to consider include: Do they listen to your concerns and answer your questions? Do they offer support groups? Will they continue to provide care after surgery?
In addition to these cornerstone criteria, the SSCS physicians note that individuals should learn where a bariatric surgeon performs their procedures. The team explains that operating in an accredited surgical facility is another key component in ensuring a patient's safety. By doing so, they say that a patient can trust that their physician is upholding high safety and care standards, as established by the Metabolic and Bariatric Surgery Accreditation and Quality Improvement Program (MBSAQIP).
About Suburban Surgical Care Specialists/Kane Center
The Suburban Surgical Care Specialists/Kane Center team is composed of Dr. James M. Kane, Jr., Dr. Peter R. Rantis, Jr., Dr. Paul J. Guske, and Dr. Jonathan W. Wallace. All surgeons at SSCS are certified by the American Board of Surgery and maintain Fellow status in the American College of Surgeons. The practice has been recognized as a Designated Center for Bariatric Surgery by Blue Cross Blue Shield of Illinois, as well as a Bariatric Surgery Center of Excellence by the American Society for Metabolic & Bariatric Surgery.
The practice can be found online at suburbansurgicalcare.com and facebook.com/pages/Suburban-Surgical-Care-Specialists/112793022140308.
Contact:
Suburban Surgical Care Specialists/Kane Center
Prairie Pointe Medical:
4885 Hoffman Blvd.
#400
Hoffman Estates, IL 60192
Eberle Building:
800 Biesterfield Road
#555
Elk Grove Village, IL 60007
(866) 716-5263
Rosemont Media
(800) 491-8623
www.rosemontmedia.com