miraDry® for Underarm Sweating – Chicago Surgeons Discuss Revolutionary New Treatment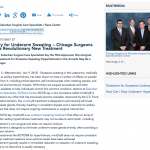 Doctors at Suburban Surgical Care Specialists say the FDA-approved, non-surgical miraDry® treatment for excessive sweating (hyperhidrosis) in the armpits may be a game-changer.
Chicago, IL – Excessive sweating in the underarms, medically referred to as axillary hyperhidrosis, has been shown to have a number of effects on people who suffer from it, including embarrassment, self-consciousness when meeting people, and even financial and emotional impacts. While there are surgical procedures and other treatments available to help individuals control this common condition, doctors at Suburban Surgical Care Specialists, SC/Kane Center (SCCS) say a new procedure called miraDry® is unlike just about any other that has previously become available. Approved by the U.S. Food and Drug Administration, the miraDry® treatment is designed to permanently eliminate underarm sweat glands, thereby resulting in consistent dryness and a resolution to axillary hyperhidrosis that does not require ongoing maintenance or surgical intervention.
Doctors at SCCS say miraDry® is an underarm sweating treatment that offers an array of benefits other axillary hyperhidrosis treatments may not be able to accomplish, including:
The treatment is non-surgical and does not require incisions
The treatment is designed to eliminate underarm sweat glands entirely, often providing a permanent solution
Unlike treatments like BOTOX® for hyperhidrosis, miraDry® does not require consistent follow-up treatment sessions once optimal results have been achieved
The treatment typically results in immediate reduction or cessation of underarm sweating, and little to no downtime is usually necessary
The Chicago surgeons note that, while sweat glands are necessary for the body to be able to cool itself, the underarms actually contain only about two percent of sweat glands and therefore should not affect the body's overall cooling abilities. The miraDry® technique involves the use of targeted electromagnetic energy delivered to specific areas of the underarms. A handpiece is guided over the areas where the sweat glands are located, heating the glands and ultimately eliminating them. The doctors say the procedure involves only a local anesthetic, is typically performed on an outpatient basis, taking only about one hour to complete.
After the miraDry® procedure, doctors at SCCS say patients experience some temporary swelling and bruising in the treatment areas, but most people are able to resume normal daily activities immediately. They note that, while only one treatment is necessary for many patients, some who experience more severe forms of underarm hyperhidrosis may require at least two miraDry® procedures for permanent results.
With miraDry®, SCCS doctors say axillary hyperhidrosis can be reduced and even eliminated for many individuals, relieving them from worries about sweat stains, deodorant residue, and odors coming from the armpits. They say the procedure is another advanced option that can help improve a condition that's shared by millions of people worldwide.
About Suburban Surgical Care Specialists, S.C./Kane Center
Suburban Surgical Care Specialists/Kane Center offers a full array of options for patients seeking bariatric surgery in Chicago, as well as treatment for hyperhidrosis, gallbladder disease, colon and rectal conditions, hernias, gastroesophageal reflux disease, and other medical issues. All surgeons at the practice are certified by the American Board of Surgery and are Fellows of the American College of Surgeons. Doctors at the practice are committed to utilizing laparoscopic surgical techniques and minimally-invasive treatment options as much as possible, as well as staying abreast of advanced technologies by pursuing continuing medical education courses. Doctors at SSCS are available for interview upon request.
The practice can be found online at suburbansurgicalcare.com and facebook.com/pages/Suburban-Surgical-Care-Specialists/112793022140308.
Contact:
Suburban Surgical Care Specialists / Kane Center
Prairie Pointe Medical
4885 Hoffman Blvd.
# 400
Hoffman Estates, IL 60192
Arlington Lakes Professional Center
1614 Central Road
# 211
Arlington Heights, IL 60005
Wimmer Medical Plaza
800 Biesterfield Road
# 101
Elk Grove Village, IL 60007
(866) 716-5263
Rosemont Media
(858) 200-0044
www.rosemontmedia.com