Chicago Bariatric Surgeons on Treating Obesity with the Duodenal Switch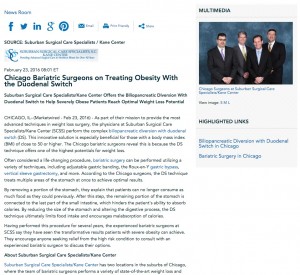 Suburban Surgical Care Specialists/Kane Center offers the biliopancreatic diversion with duodenal switch to help severely obese patients reach optimal weight loss potential.
Chicago, IL – As part of their mission to provide the most advanced techniques in weight loss surgery, the physicians at Suburban Surgical Care Specialists/Kane Center (SCSS) perform the complex biliopancreatic diversion with duodenal switch (DS). This innovative solution is especially beneficial for those with a body mass index (BMI) of close to 50 or higher. The Chicago bariatric surgeons reveal this is because the DS technique offers one of the highest potentials for weight loss.
Often considered a life-changing procedure, bariatric surgery can be performed utilizing a variety of techniques, including adjustable gastric banding, the Roux-en-Y gastric bypass, vertical sleeve gastrectomy, and more. According to the Chicago surgeons, the DS technique treats multiple areas of the stomach at once to achieve optimal results.
By removing a portion of the stomach, they explain that patients can no longer consume as much food as they could previously. After this step, the remaining portion of the stomach is connected to the last part of the small intestine, which hinders the patient's ability to absorb calories. By reducing the size of the stomach and altering the digestive process, the DS technique ultimately limits food intake and encourages malabsorption of calories.
Having performed this procedure for several years, the experienced bariatric surgeons at SCSS say they have seen the transformative results patients with severe obesity can achieve. They encourage anyone seeking relief from the high risk condition to consult with an experienced bariatric surgeon to discuss their options.
About Suburban Surgical Care Specialists/Kane Center
Suburban Surgical Care Specialists/Kane Center has two locations in the suburbs of Chicago, where the team of bariatric surgeons performs a variety of state-of-the-art weight loss and general surgical procedures. The team is composed of Dr. James M. Kane, Jr., Dr. Peter C. Rantis, Jr., Dr. Paul J. Guske, and Dr. Jonathan W. Wallace. The physicians are all members of the Society of American Gastrointestinal Endoscopic Surgeons and the American Society for Metabolic & Bariatric Surgery. SSCS is also a member of the Alexian Brothers Health Network. The doctors at SSCS are available for interview upon request.
The practice can be found online at suburbansurgicalcare.com and facebook.com/pages/Suburban-Surgical-Care-Specialists/112793022140308.
Contact:
Suburban Surgical Care Specialists / Kane Center
Prairie Pointe Medical:
4885 Hoffman Blvd.
#400
Hoffman Estates, IL 60192
Wimmer Medical Plaza:
800 Biesterfield Road
#101
Elk Grove Village, IL 60007
(866) 716-5263
Rosemont Media
(858) 200-0044
www.rosemontmedia.com