Chicago Bariatric Surgery Practice Offers Yoga Classes for Its Patients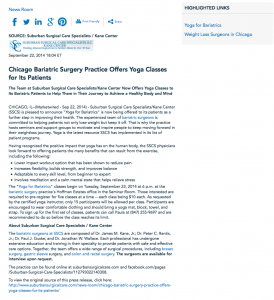 The team at Suburban Surgical Care Specialists/Kane Center now offers yoga classes to its bariatric patients to help them in their journey to achieve a healthy body and mind.
Chicago, IL – Suburban Surgical Care Specialists/Kane Center (SSCS) is pleased to announce "Yoga for Bariatrics" is now being offered to its patients as a further step in improving their health. The experienced team of bariatric surgeons is committed to helping patients not only lose weight but keep it off. That is why the practice hosts seminars and support groups to motivate and inspire people to keep moving forward in their weightloss journey. Yoga is the latest resource SSCS has implemented in its list of patient programs.
Having recognized the positive impact that yoga has on the human body, the SSCS physicians look forward to offering patients the many benefits that can result from the exercise, including the following:
Lower impact workout option that has been shown to reduce pain
Increases flexibility, builds strength, and improves balance
Adaptable to every skill level, from beginner to expert
Involves meditation and a calm mental state that helps relieve stress
The "Yoga for Bariatrics" classes begin on Tuesday, September 23, 2014 at 6 p.m. at the bariatric surgery practice's Hoffman Estates office in the Seminar Room. Those interested are required to pre-register for five classes at a time — each class being $10 each. As requested by the certified yoga instructor, only 15 participants will be allowed per class. Participants are encouraged to wear comfortable clothing and should bring a yoga mat, block, towel, and strap. To sign up for the first set of classes, patients can call Paula at (847) 255-9697 and are recommended to do so before the class reaches its limit.
About Suburban Surgical Care Specialists / Kane Center
The bariatric surgeons at SSCS are composed of Dr. James M. Kane, Jr.; Dr. Peter C. Rantis, Jr.; Dr. Paul J. Guske; and Dr. Jonathan W. Wallace. Each professional has undergone extensive education and training in their specialty to provide patients with safe and effective care options. Together, the team offers a wide range of surgical procedures, including breast surgery, gastric sleeve surgery, and colon and rectal surgery. The surgeons are available for interview upon request.
The practice can be found online at suburbansurgicalcare.com and facebook.com/pages/Suburban-Surgical-Care-Specialists/112793022140308.
###
Suburban Surgical Care Specialists, S.C. / Kane Center
Prairie Pointe Medical
4885 Hoffman Blvd.
# 400
Hoffman Estates, IL 60192
Arlington Lakes Professional Center
1614 Central Road
# 211
Arlington Heights, IL 60005
Wimmer Medical Plaza
800 Biesterfield Road
# 101
Elk Grove Village, IL 60007
(866) 716-5263
Rosemont Media
(858) 200-0044
www.rosemontmedia.com