Chicago Weight Loss Surgeons Discuss Candidates for Bariatric Surgery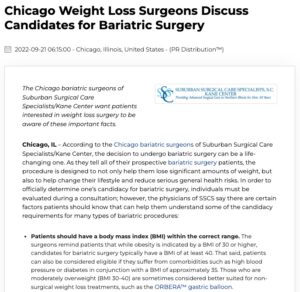 The Chicago bariatric surgeons of Suburban Surgical Care Specialists/Kane Center want patients interested in weight loss surgery to be aware of these important facts.
Chicago, IL – According to the Chicago bariatric surgeons of Suburban Surgical Care Specialists/Kane Center, the decision to undergo bariatric surgery can be a life-changing one. As they tell all of their prospective bariatric surgery patients, the procedure is designed to not only help them lose significant amounts of weight, but also to help change their lifestyle and reduce serious general health risks. In order to officially determine one's candidacy for bariatric surgery, individuals must be evaluated during a consultation; however, the physicians of SSCS say there are certain factors patients should know that can help them understand some of the candidacy requirements for many types of bariatric procedures:
Patients should have a body mass index (BMI) within the correct range. The surgeons remind patients that while obesity is indicated by a BMI of 30 or higher, candidates for bariatric surgery typically have a BMI of at least 40. That said, patients can also be considered eligible if they suffer from comorbidities such as high blood pressure or diabetes in conjunction with a BMI of approximately 35. Those who are moderately overweight (BMI 30-40) are sometimes considered better suited for non-surgical weight loss treatments, such as the ORBERA™ gastric balloon.
Certain medications may interfere with surgery. Prescribed or over-the-counter medications, specifically supplements and herbal medications, must sometimes be stopped a week prior to surgery so as not to interfere with blood clotting. Patients can view SSCS's list of these medications within these pre-op instructions.
The procedure requires dedication to lifelong lifestyle changes. As the doctors of SSCS frequently tell their patients, the process of bariatric surgery does not end with the procedure itself. Rather, patients will need to alter their diet, take specialized vitamins, adhere to a personalized exercise routine, and be closely monitored by doctors and physician extenders following surgery. Our psychologist on staff moderates support groups, pre- and post-operatively, and the hospital dietitians are available to expertly individualize the aftercare period.
Patients should expect post-surgical body changes to take place. Because many patients experience loose or hanging skin after weight loss surgery, the surgeons of SSCS may recommend that they consider post-bariatric surgery. The term "post-bariatric surgery" refers to several types of body enhancement procedures – such as abdominoplasty or arm, thigh, or breast lift surgery – to remove excess skin and contour the physique.
Patients should have realistic expectations. Above all, the surgeons state, the ideal candidate must know that the effects of bariatric surgery are meant to be life-changing. While these changes – which can include a healthier size, a reduction in health conditions associated with obesity, and an improved self-confidence – usually mean a much better quality of life, it generally takes hard work and significant willpower for patients to reap the full benefits of surgery.
Overall, the surgeons reiterate that determining one's candidacy for weight loss surgery must be done in an in-person consultation where the patient's needs, goals, and medical history can be evaluated. With that in mind, they note, individuals who are considering bariatric surgery should know that they've already made what could be a very important step on a journey to better health and improved self-esteem.
About Suburban Surgical Care Specialists/Kane Center
Drs. James M. Kane, Jr., Peter R. Rantis, Jr., Paul J. Guske, and Jonathan W. Wallace make up the renowned bariatric surgical team at SSCS. They are each certified by the American Board of Surgery and are Fellows of the American College of Surgeons, as well as Fellows of the American Society for Metabolic & Bariatric Surgery. The team is dedicated to making the bariatric surgery process as successful as possible. In addition, they are accredited by the American College of Surgery (ACS). Weight loss surgery options available at the practice include gastric bypass surgery, gastric sleeve surgery, LAP-BAND® Adjustable Gastric Banding, and other advanced options. The doctors are available for interview upon request.
The practice can be found online at suburbansurgicalcare.com and facebook.com/pages/Suburban-Surgical-Care-Specialists/112793022140308.
Contact:
Suburban Surgical Care Specialists/Kane Center
Prairie Pointe Medical:
4885 Hoffman Blvd.
#400
Hoffman Estates, IL 60192
Eberle Building:
800 Biesterfield Road
#555
Elk Grove Village, IL 60007
(847) 255-9697
Rosemont Media
(800) 491-8623
www.rosemontmedia.com