Chicago Weight Loss Surgeons Explain Pros & Cons of Bariatric Surgery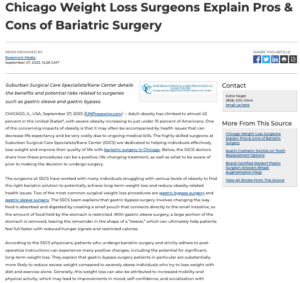 The Suburban Surgical Care Specialists/Kane Center team in Chicago detail benefits and potential risks related to surgeries such as gastric sleeve and gastric bypass.
Chicago, IL – Adult obesity has climbed to almost 42 percent in the United States*, with severe obesity increasing to just under 10 percent of Americans. One of the concerning impacts of obesity is that it may often be accompanied by health issues that can decrease life expectancy and be very costly due to ongoing medical bills. The highly skilled surgeons at Suburban Surgical Care Specialists/Kane Center (SSCS) are dedicated to helping individuals effectively lose weight and improve their quality of life with bariatric surgery in Chicago. Below, the SSCS doctors share how these procedures can be a positive, life-changing treatment, as well as what to be aware of prior to making the decision to undergo surgery.
The surgeons at SSCS have worked with many individuals struggling with various levels of obesity to find the right bariatric solution to potentially achieve long-term weight loss and reduce obesity-related health issues. Two of the most common surgical weight loss procedures are gastric bypass surgery and gastric sleeve surgery. The SSCS team explains that gastric bypass surgery involves changing the way food is absorbed and digested by creating a small pouch that connects directly to the small intestine, so the amount of food held by the stomach is restricted. With gastric sleeve surgery, a large portion of the stomach is removed, leaving the remainder in the shape of a "sleeve," which can ultimately help patients feel full faster with reduced hunger signals and restricted calories.
According to the SSCS physicians, patients who undergo bariatric surgery and strictly adhere to post-operative instructions can experience many positive changes, including the potential for significant, long-term weight loss. Studies have shown that gastric bypass surgery patients in particular are substantially more likely to reduce excess weight compared to severely obese individuals who try to lose weight with diet and exercise alone. Generally, this weight loss can also be attributed to increased mobility and physical activity, which may lead to improvements in mood, self-confidence, and socialization with others. The SSCS doctors add that obesity-related health conditions, such as heart and cardiovascular diseases, type 2 diabetes, certain types of cancer, and stroke, may be dramatically reduced after bariatric surgery if the patient commits to a healthy lifestyle and has a strong support system to focus on long-term wellness.
As with any surgery, there are certain risks that can accompany bariatric procedures, including bleeding, infection, blood clots, bowel obstructions, ulcers, malnutrition, and other symptoms. The doctors at SSCS always recommend that weight loss procedures only be performed by board-certified surgeons with extensive training and experience to help mitigate the risk of these complications. Gastric bypass and gastric sleeve surgeries are designed to alter the structure and function of the stomach/intestines, so choosing the right doctor is crucial to a successful surgery. Another potential "con" of bariatric surgery is that it may lead to excess, inelastic skin following weight loss; however, the doctors note that this can often be addressed with post-bariatric body contouring surgery for patients who may be interested in those procedures. It is also important to note that results can be dependent upon each unique individual in regard to their age, current overall health, and the type of procedure, which should all be evaluated during a private consultation.
With that said, under the proper care and advisement of qualified professionals, SSCS surgeons remind prospective patients that, in large part, the possible downsides to bariatric surgery are typically more than worth the benefits for patients suffering from obesity who have a goal to effectively lose weight and reduce risks to overall health. They say individuals who may be candidates for bariatric surgery procedures should be sure to schedule an in-person consultation with a qualified, reputable weight loss surgeon who can evaluate their needs and provide them with honest and thorough guidance on what can serve as ideal solutions.
Medical Reference:
*CDC: Adult Obesity Facts
About Suburban Surgical Care Specialists/Kane Center
The experienced team of bariatric surgeons at Suburban Surgical Care Specialists/Kane Center (SSCS) are passionate about helping patients succeed in their weight loss journey. The Chicago-area practice is recognized by the American Society for Metabolic & Bariatric Surgery as a Bariatric Surgery Center of Excellence, and doctors at the practice have been acknowledged for their work in laparoscopic surgical techniques. Dr. James M. Kane, Jr., Dr. Peter R. Rantis, Jr., Dr. Paul J. Guske, and Dr. Jonathan W. Wallace are all certified by the American Board of Surgery and have Fellowship status with the American College of Surgeons. In addition to gastric bypass and gastric sleeve surgeries, the team at SSCS is experienced in performing procedures such as LAP-BAND® Adjustable Gastric Banding, laparoscopic colorectal surgery, robotic hernia surgery, and other advanced options. The doctors are available for interview upon request.
For more information about Suburban Surgical Care Specialists/Kane Center, please visit suburbansurgicalcare.com or facebook.com/pages/Suburban-Surgical-Care-Specialists/112793022140308
Contact:
Suburban Surgical Care Specialists/Kane Center
Prairie Pointe Medical:
4885 Hoffman Blvd.
#400
Hoffman Estates, IL 60192
Eberle Building:
800 Biesterfield Road
#555
Elk Grove Village, IL 60007
(847) 255-9697
Rosemont Media
(858) 200-0044
www.rosemontmedia.com