Former Patient Shares Weight Loss Journey in New Book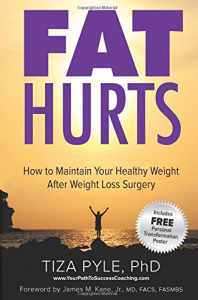 Beatriz "Tiza" Pyle, PhD is a former patient of Suburban Surgical Care Specialists, S.C. who successfully lost weight after her bariatric surgery and has maintained a healthy weight ever since. Having undergone such a life-changing transformation, Dr. Pyle has dedicated her life to helping others succeed as well, acting as the founder and CEO of Pyle Consulting Group, Inc. and the President of Your Path To Success Coaching, Inc.
To document her weight loss journey and help others like herself persevere through the challenging time, Dr. Pyle authored the book, "Fat Hurts: How to Maintain Your Healthy Weight After Weight Loss Surgery," which was recently released. Our very own Dr. James M. Kane, Jr. had the honor of writing the foreword for the book in which he shares advice on the difficult decision that is bariatric surgery and provides encouragement for the weight loss journey that lies ahead.
If you are interesting in purchasing a copy of Dr. Pyle's inspiring book, you can find it on sale at Amazon here. To learn about weight loss surgery and the support group programs available at our practice, please contact us today.