Weight Loss Surgery Seminars with Chicago Bariatric Surgery Practice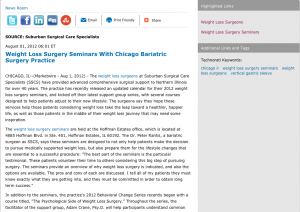 Chicago, IL — The weight loss surgeons at Suburban Surgical Care Specialists (SSCS) have provided advanced comprehensive surgical support to Northern Illinois for over 50 years. The practice has recently released an updated calendar for their 2012 weight loss surgery seminars, and kicked off their latest support group series, with several courses designed to help patients adjust to their new lifestyle. The surgeons say they hope these services help those patients considering weight loss take the leap toward a healthier, happier life, as well as those patients in the middle of their weight loss journey that may need some inspiration.
The weight loss surgery seminars are held at the Hoffman Estates office, which is located at 4885 Hoffman Blvd. in Ste. 401, Hoffman Estates, IL 60192. The Dr. Peter Rantis, a bariatric surgeon as SSCS, says these seminars are designed to not only help patients make the decision to pursue medically supported weight loss, but also prepare them for the lifestyle changes that are essential to a successful procedure: "The best part of the seminars is the particular testimonial. These patients volunteer their time to others considering this big step of pursuing surgery. The seminars provide an overview of why weight loss surgery is indicated, and also the options are available. The pros and cons of each are discussed. I tell all of my patients they must know exactly what they are getting into, and they must be committed in order to obtain long term success."
In addition to the seminars, the practice's 2012 Behavioral Change Series recently began with a course titled, "The Psychological Side of Weight Loss Surgery." Throughout the series, the facilitator of the support group, Adam Crane, PsyD will help participants understand common obstacles such as problematic eating and stress, and how to combat these roadblocks by identifying existing support groups and eating patterns, and considering one's self-image and level of self-esteem. The 2012 Support Group series also includes courses for post-operative success following procedures such as the gastric band and the vertical gastric sleeve.
Regardless of the procedure their patients undergo, the surgeons of SSCS say education and support both play an integral role in a successful weight loss journey. Additionally, they urge patients to consult with a qualified bariatric surgeon, because when considering weight loss surgery, having a solid grasp of the lifestyle changes that accompany a procedure can help patients achieve a safe and effective procedure as well as long-term weight loss success.
About Suburban Surgical Care Specialists
To further support the special requirements and unique needs of bariatric surgery patients, SSCS recently established the Kane Center, which has been designated as a Bariatric Surgery Center of Excellence® by the American Society for Metabolic and Bariatric Surgery (ASMBS), and by Blue Cross Blue Shield of Illinois as a Designated Center for Bariatric Surgery. The surgeons at SSCS are dedicated to providing the latest and most effective weight loss procedures for their patients, and believe patient education and post-operative support are as essential to a successful procedure as surgical technique and expertise.
SSCS has three location: Prairie Pointe Medical at 4885 Hoffman Blvd., #400, Hoffman Estates, IL 60192; Arlington Lakes Professional Center at 1614 Central Road, Suite 211, Arlington Heights, IL 60005; Wimmer Medical Plaza at 810 Biesterfield Rd. Suite 101, Elk Grove Village, IL 60007. The offices can be reached at (866) 716-5263, or (847) 255-9697. SSCS can also be found online at www.suburbansurgicalcare.com, or their Chicago Weight Loss Surgery Facebook page.