Chicago Bariatric Surgeons on Insurance Coverage for Weight Loss Surgery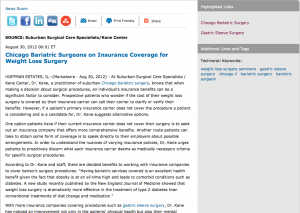 Hoffman Estates, IL – At Suburban Surgical Care Specialists / Kane Center, Dr. Kane, a practitioner of suburban Chicago bariatric surgery, knows that when making a decision about surgical procedures, an individual's insurance benefits can be a significant factor to consider. Prospective patients who wonder if the cost of their weight loss surgery is covered by their insurance carrier can call their carrier to clarify or verify their benefits. However, if a patient's primary insurance carrier does not cover the procedure a patient is considering and is a candidate for, Dr. Kane suggests alternative options.
One option patients have if their current insurance carrier does not cover their surgery is to seek out an insurance company that offers more comprehensive benefits. Another route patients can take to obtain some form of coverage is to speak directly to their employers about possible arrangements. In order to understand the nuances of varying insurance policies, Dr. Kane urges patients to proactively discern what each insurance carrier deems as medically necessary criteria for specific surgical procedures.
According to Dr. Kane and staff, there are decided benefits to working with insurance companies to cover bariatric surgery procedures: "Having bariatric services covered is an excellent health benefit given the fact that obesity is at an all-time high and leads to comorbid conditions such as diabetes. A new study recently published by the New England Journal of Medicine showed that weight loss surgery is dramatically more effective in the treatment of type 2 diabetes than conventional treatments of diet change and medication."
With more insurance companies covering procedures such as gastric sleeve surgery, Dr. Kane has noticed an improvement not only in the patients' physical health but also their mental health. Suburban Surgical Care Specialists / Kane Center has performed an increasing number of weight loss procedures in direct correlation with the increases in patient coverage. Dr. Kane, a Chicago bariatric surgeon, expects the rising rates of coverage and surgeries to continue to increase as insurance companies continue to expand their benefits.
About James M. Kane Jr., MD
Dr. James Kane Jr. is board-certified by the American Board of Surgery. A graduate of Creighton University, he earned his medical degree from Georgetown University School of Medicine. Dr. Kane completed his residency training at the University of Illinois Medical Center where he served as the Chief Resident in General Surgery from 1989-1990. Since 1991, he has taught at the University of Illinois Medical Center as a Clinical Instructor of Surgery. He is affiliated with Alexian Brothers Medical Center, Northwest Community Hospital, and St. Alexius Medical Center. He has published many articles in national medical journals and delivered presentations internationally throughout his career.
Suburban Surgical Care Specialists / Kane Center hosts a number of weight loss surgery seminars every year to educate the public and other medical professionals on various bariatric topics. To contact the doctors or their trained staff, visit their website at suburbansurgicalcare.com or call 866-716-5263. The center's office has three locations: Prairie Pointe Medical, 4885 Hoffman Blvd, #400, Hoffman Estates, IL 60192; Arlington Lakes Professional Center, 1614 Central Road, Suite 211, Arlington Heights, IL 60005; and Wimmer Medical Plaza, 800 Biesterfield Road, Suite 101, Elk Grove Village, IL 60007. The center's Facebook page can be found at facebook.com/pages/Suburban-Surgical-Care-Specialists/112793022140308.