Chicago Bariatric Surgeons Explain Lifestyle Changes After Weight Loss Surgery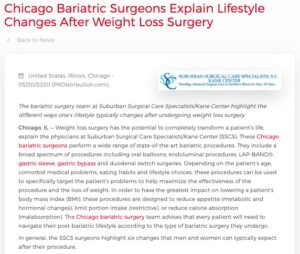 The bariatric surgery team at Suburban Surgical Care Specialists/Kane Center highlight the different ways one's lifestyle typically changes after undergoing weight loss surgery.
Chicago, IL — Weight loss surgery has the potential to completely transform a patient's life, explain the physicians at Suburban Surgical Care Specialists/Kane Center (SSCS). These Chicago bariatric surgeons perform a wide range of state-of-the-art bariatric procedures. They include a broad spectrum of procedures including oral balloons, endoluminal procedures, LAP-BAND®, gastric sleeve, gastric bypass and duodenal switch surgeries. Depending on the patient's age, comorbid medical problems, eating habits and lifestyle choices, these procedures can be used to specifically target the patient's problems to help maximize the effectiveness of the procedure and the loss of weight. In order to have the greatest impact on lowering a patient's body mass index (BMI), these procedures are designed to reduce appetite (metabolic and hormonal changes), limit portion intake (restrictive), or reduce calorie absorption (malabsorption). The Chicago bariatric surgery team advises that every patient will need to navigate their post-bariatric lifestyle according to the type of bariatric surgery they undergo.
In general, the SSCS surgeons highlight six changes that men and women can typically expect after their procedure.
Diet Changes: A healthy diet is essential after bariatric surgery. In addition to eating more nutritious foods, patients will need to consume a smaller amount since their stomach has been reduced in size.
Vitamins: After some bariatric procedures, many patients have a reduced capacity to fully absorb nutrients and vitamins from their food alone. As a result vitamin supplements are an important addition to your diet to eliminate vitamin deficiencies.
Medications: As significant weight loss occurs, patients often see their associated comorbid medical problems or illnesses such as diabetes and high blood pressure improve or completely resolve. This may allow many patients to safely reduce the reliance on prescriptions as directed by their physician.
Fitness: An active lifestyle is important for managing weight throughout one's lifetime. After recovering from bariatric surgery, patients should adopt a regular exercise regimen.
Mental Health: Treating morbid obesity can be emotionally challenging for patients. Seeking help from one's bariatric surgeon and a mental health professional can be a beneficial part of one's recovery.
Loose Skin: Major weight loss can result in excess or loose skin. Body contouring options are available through Suburban Surgical Care Specialists post weight loss surgery to enhance a patient's final appearance.
While everyone responds differently to life after bariatric surgery, the surgeons at SSCS emphasize that several lifestyle changes are often needed to achieve good long-term health. In this transitional period, the bariatric surgical team offers a comprehensive aftercare program including access to mental health professionals, access to dietitians, post-surgery seminars and support groups to help assist patients and their families achieve maximum success.
About Suburban Surgical Care Specialists/Kane Center
Based in the greater Chicago area, Suburban Surgical Care Specialists/Kane Center offers a comprehensive selection of surgeries. These surgeons have over 35 years of experience with a broad range of surgeries, including metabolic and bariatric surgeries, comprehensive endocrine surgery, colorectal surgery, gastrointestinal cancer surgeries, gastroesophageal reflux and hiatal hernia surgery, liver and gallbladder surgery, and abdominal hernia repairs along with many more procedures. The surgeons at SSCS include Dr. James M. Kane, Jr., Dr. Peter C. Rantis, Jr., Dr. Paul J. Guske, and Dr. Jonathan W. Wallace. These physicians are all board certified by the American Board of Surgery and are Fellows of the American College of Surgeons. They are also Fellows of the American Society of Metabolic and Bariatric Surgery (FASMBS). This team has been recognized as a Designated Center for Bariatric Surgery by Blue Cross Blue Shield of Illinois and a Bariatric Surgery Center of Excellence by the American College of Surgeons and the American Society of Metabolic and Bariatric Surgery. They were the first center in the Midwest to attain these honors.
The practice can be found online at suburbansurgicalcare.com and facebook.com/pages/Suburban-Surgical-Care-Specialists/112793022140308.
Contact:
Suburban Surgical Care Specialists/Kane Center
Prairie Pointe Medical:
4885 Hoffman Blvd.
#400
Hoffman Estates, IL 60192
Eberle Building:
800 Biesterfield Road
#555
Elk Grove Village, IL 60007
(866) 716-5263
Rosemont Media
(858) 200-0044
www.rosemontmedia.com