Suburban Surgical Care Specialists Notice Increase in Gastric Sleeve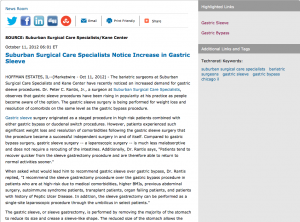 Hoffman Estates, IL – The bariatric surgeons at Suburban Surgical Care Specialists and Kane Center have recently noticed an increased demand for gastric sleeve procedures. Dr. Peter C. Rantis, Jr., a surgeon at Suburban Surgical Care Specialists, observes that gastric sleeve procedures have been rising in popularity at his practice as people become aware of the option. The gastric sleeve surgery is being performed for weight loss and resolution of comorbids on the same level as the gastric bypass procedure.
Gastric sleeve surgery originated as a staged procedure in high-risk patients combined with either gastric bypass or duodenal switch procedures. However, patients experienced such significant weight loss and resolution of comorbidities following the gastric sleeve surgery that the procedure became a successful independent surgery in and of itself. Compared to gastric bypass surgery, gastric sleeve surgery – a laparoscopic surgery – is much less malabsorptive and does not require a rerouting of the intestines. Additionally, Dr. Rantis says, "Patient's tend to recover quicker from the sleeve gastrectomy procedure and are therefore able to return to normal activities sooner."
When asked what would lead him to recommend gastric sleeve over gastric bypass, Dr. Rantis replied, "I recommend the sleeve gastrectomy procedure over the gastric bypass procedure in patients who are at high-risk due to medical comorbidities, higher BMI's, previous abdominal surgery, autoimmune syndrome patients, transplant patients, organ failing patients, and patients with history of Peptic Ulcer Disease. In addition, the sleeve gastrectomy can be performed as a single-site laparoscopic procedure through the umbilicus in select patients."
The gastric sleeve, or sleeve gastrectomy, is performed by removing the majority of the stomach to reduce its size and crease a sleeve-like shape. The reduced size of the stomach allows the patient to feel satiated after eating a smaller portion of food. As a result, many patients continue to experience weight loss after the surgery is completed.
As awareness of gastric sleeve surgery in Chicago and its surrounding areas increases, Dr. Rantis provides an alternative to prospective patients who previously considered gastric bypass surgery to be their only option in fighting obesity. For patients suffering from obesity, the gastric sleeve provides an option that does not require a foreign body implantation or create significant malabsorption.
About Peter C. Rantis, Jr., M.D.
After earning his medical degree from the University of Illinois College of Medicine, Dr. Peter C. Rantis, Jr. completed his General Surgery residency at Loyola University Medical Center and his Colon and Rectal Surgery fellowship at the Saint Louis University Health Sciences Center. He is a member of several prestigious organizations including American Society of Colon and Rectal Surgeons and the American College of Surgeons. Dr. Rantis is affiliated with multiple Illinois hospitals and has written a number of published medical works. He is also board certified by both the American Board of Surgery and the American Board of Colon and Rectal Surgery.
To contact Suburban Surgical Care Specialists / Kane Center, visit their website at suburbansurgicalcare.com or call 866-716-5263. The center's office has three locations: Prairie Pointe Medical, 4885 Hoffman Blvd, #400, Hoffman Estates, IL 60192; Arlington Lakes Professional Center, 1614 Central Road, Suite 211, Arlington Heights, IL 60005; and Wimmer Medical Plaza, 800 Biesterfield Road, Suite 101, Elk Grove Village, IL 60007.