Chicago Bariatric Surgeons on Revisional Weight Loss Surgery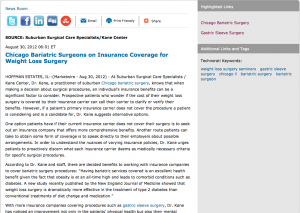 Hoffman Estates, IL – Suburban Surgical Care Specialists and Kane Center, a provider of suburban Chicago bariatric surgery, has been performing revisional bariatric procedures for over fifty years. The practice has performed thousands of surgeries during that time, and Dr. James M. Kane Jr. stresses the importance of choosing an experienced surgical team. He states that, due to the nature of the procedure, a well-established practice with a long-standing history is particularly important in regard to revisional bariatric surgery.
Dr. Kane has observed that some reasons for patients seeking out revision of surgery in the last decade is due to the fact that the patients' initial procedures may have been performed incorrectly. Also, patients who fail to lose weight or have regained weight may also seek revisional surgery, as well as patients who have experienced complications from their previous procedures. The patients Dr. Kane works with also include those who have had Sleeve Gastrectomy performed by another surgeon and are not satisfied with the results. Dr. Kane, who regularly performs gastric sleeve procedures himself, at times may make adjustments and corrections to the previous surgery using his experience and knowledge.
When asked about the importance of a practitioner's board certification in the decision-making process of a potential patient choosing a provider, Dr. Kane says board certification is important but not essential. Specifically in regard to revisional bariatric surgery, Dr. Kane believes it is more important to choose weight loss surgeons that have vast experience in all types of bariatric surgery including the surgeries done in the 1960s, 70s, and 80s. The Chicago weight loss surgeon speaks to his own practice's knowledge, saying, "Our surgical team is the most experienced surgical team in the Midwest dealing with complex revisional bariatric surgery, and has been a tertiary care center regarding these procedures for decades." He adds that in order to truly understand how to respond to the needs of the patient and correct the deficiencies of previous operations, it is vital that current practitioners have extensive knowledge of past weight loss surgery practices and obesity to perform a wide spectrum of procedures.
About James M. Kane Jr., MD
Dr. James M. Kane Jr. is board-certified by the American Board of Surgery. Dr. Kane earned his medical degree from Georgetown University School of Medicine and completed his residency training. He later served as the Chief Resident in General Surgery at the University of Illinois Medical Center from 1989-1990 where he has taught as a Clinical Instructor of Surgery ever since. Dr. Kane is a member of the American College of Surgeons, the American Society for Metabolic & Bariatric Surgery, the American Association of General Surgeons, the American Society of Laparoscopic Surgeons, the Association of American Physicians and Surgeons, the Illinois Surgical Society, and the Society of American Gastrointestinal and Endoscopic Surgeons. He is also a founder and past president of Illinois Association of Bariatric Surgeons.
To contact Suburban Surgical Care Specialists / Kane Center, visit their website at suburbansurgicalcare.com or call 866-716-5263. The center's office has three locations: Prairie Pointe Medical, 4885 Hoffman Blvd, #400, Hoffman Estates, IL 60192; Arlington Lakes Professional Center, 1614 Central Road, Suite 211, Arlington Heights, IL 60005; and Wimmer Medical Plaza, 800 Biesterfield Road, Suite 101, Elk Grove Village, IL 60007. The center's Facebook page can be found at facebook.com/pages/Suburban-Surgical-Care-Specialists/112793022140308.