Will I Need Plastic Surgery After Bariatric Surgery?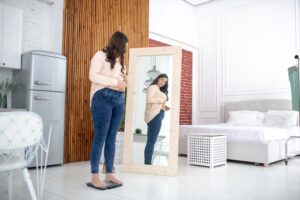 Bariatric surgery involves a collection of procedures, such as sleeve gastrectomy, gastric bypass, and duodenal switch options, which can effectively treat obesity for the right candidates. By altering the way your digestive system operates, bariatric surgery can lead to significant weight loss, producing visible results and improving patients' lives. At Suburban Surgical Care Specialists/Kane Center, our highly trained surgeons have immense experience producing life-changing results through bariatric surgery. Once the weight loss process is complete, some may wonder if any follow-up surgery is necessary. This blog will detail why in some cases a second, follow-up surgery may be desired in order to help finalize the results you have worked hard to achieve.
While bariatric surgery is effective at reducing your overall weight, you may still want to enhance your overall body contour. After you have undergone your procedure and the subsequent weight loss, you may find you are left with sagging skin and excess fat buildup. This is because your skin stretches over the years to accommodate the added weight and, in many cases, may become too lax to shrink back. Isolated pockets of fat can also remain in trouble areas, despite extensive weight loss. While bariatric surgery can enhance your body shape and lead to better overall health, you may want to seek out additional services known as post-weight loss surgery to address these concerns.
For optimal results, bariatric surgery is often paired with another cosmetic surgery as well. If you want to enhance your appearance beyond losing weight, you can utilize any of the various body contouring procedures that we offer. These procedures include: abdominoplasty (tummy tuck), lower body lift, breast lift, upper arm lift, and thigh lift. By combining bariatric surgery and other body contouring surgeries, you can reduce your overall weight while addressing excess skin and localized fat deposits. Our team will discuss your expectations and determine if you are a candidate for bariatric surgery at your initial consultation. Once you are at or near your goal weight, they can also help you determine if you would benefit from post-bariatric body contouring.
If you want to know more about bariatric surgery or body contouring procedures, contact us today and find out if you would make an ideal candidate!