Chicago Bariatric Surgeons Offer New Treatment For Smooth, Dry Underarms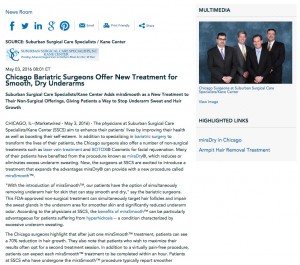 Suburban Surgical Care Specialists/Kane Center adds miraSmooth as a new treatment to their non-surgical offerings, giving patients a way to stop underarm sweat and hair growth.
Chicago, IL – The physicians at Suburban Surgical Care Specialists/Kane Center (SSCS) aim to enhance their patients' lives by improving their health as well as boosting their self-esteem. In addition to specializing in bariatric surgery to transform the lives of their patients, the Chicago surgeons also offer a number of non-surgical treatments such as laser vein treatment and BOTOX® Cosmetic for facial rejuvenation. Many of their patients have benefited from the procedure known as miraDry®, which reduces or eliminates excess underarm sweating. Now, the surgeons at SSCS are excited to introduce a treatment that expands the advantages miraDry® can provide with a new procedure called miraSmooth™.
"With the introduction of miraSmooth™, our patients have the option of simultaneously removing underarm hair for skin that can stay smooth and dry," say the bariatric surgeons. This FDA-approved non-surgical treatment can simultaneously target hair follicles and impair the sweat glands in the underarm area for smoother skin and significantly reduced underarm odor. According to the physicians at SSCS, the benefits of miraSmooth™ can be particularly advantageous for patients suffering from hyperhidrosis – a condition characterized by excessive underarm sweating.
The Chicago surgeons highlight that after just one miraSmooth™ treatment, patients can see a 70% reduction in hair growth. They also note that patients who wish to maximize their results often opt for a second treatment session. In addition to a virtually pain-free procedure, patients can expect each miraSmooth™ treatment to be completed within an hour. Patients at SSCS who have undergone the miraSmooth™ procedure typically report smoother underarm skin and significantly less underarm sweat, as well as a boost in their overall confidence.
About Suburban Surgical Care Specialists/Kane Center
With two locations in the suburbs of Chicago, the team of bariatric surgeons at Suburban Surgical Care Specialists/Kane Center perform a variety of state-of-the-art weight loss and general surgical procedures. Dr. James M. Kane, Jr., Dr. Peter C. Rantis, Jr., Dr. Paul J. Guske, and Dr. Jonathan W. Wallace make up this team of experienced physicians. Each member of the team is an active member of the American Society for Metabolic & Bariatric Surgery and the Society of American Gastrointestinal Endoscopic Surgeons. In addition, SSCS is a member of the Alexian Brothers Health Network. The physicians at SSCS are available for interview upon request.
The practice can be found online at suburbansurgicalcare.com and facebook.com/pages/Suburban-Surgical-Care-Specialists/112793022140308.
Contact:
Suburban Surgical Care Specialists / Kane Center
Prairie Pointe Medical:
4885 Hoffman Blvd.
#400
Hoffman Estates, IL 60192
Wimmer Medical Plaza:
800 Biesterfield Road
#101
Elk Grove Village, IL 60007
(866) 716-5263
Rosemont Media
(858) 200-0044
www.rosemontmedia.com